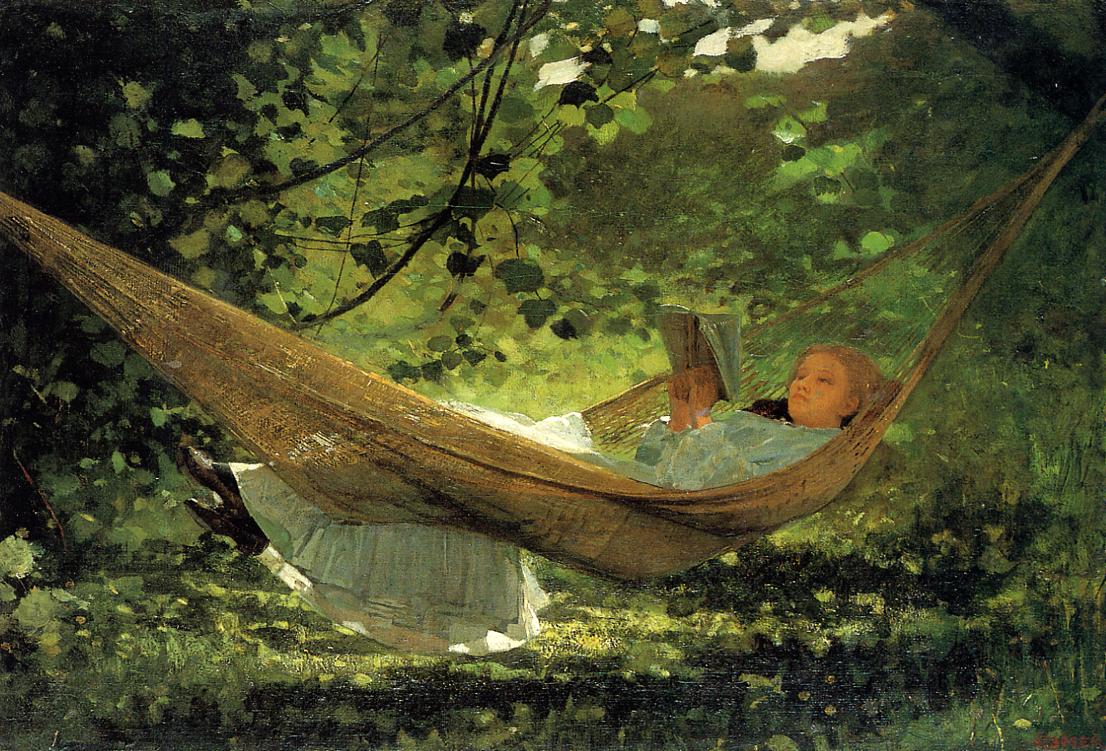 WINSLOW HOMER, SUNLIGHT AND SHADOW, 1872.
While recently perusing through Flipboard, a picture of a young lady in The Paris Review caught my eye. She was laying in a hammock and reading a book. "How very relaxing!" I thought, as I envisioned myself also lying in a hammock on a warm summer day and enjoying a great read. I sighed; feeling thankful that since I was no longer working full-time, I could actually enjoy this bit of peaceful solitude any day of the week. What a joy! Then I read the title of the article.
How could anyone envision relaxing in solitude as a waste of life! Was the writer at a life-low when even something as peaceful as this would bring on words of despair or defeat? Or was this a play on words? I sure couldn't figure it out, but decided to read on…
Over my head I see the bronze butterfly
Asleep on the black trunk,
Blowing like a leaf in green shadow.
Down the ravine, behind the empty house,
The cowbells follow one another
Into the distances of the afternoon.
To my right,
In a field of sunlight between two pines,
The droppings of last year's horses
Blaze up like golden stones.
I lean back, as the evening darkens and comes on.
A chicken hawk floats over, looking for home.
I have wasted my life.
Now I am really puzzled. How could a beautiful butterfly, and a field of sunlight bring about such despair? I will admit that horse dropping did elicit an "ewww," but let's continue.
The author goes on…
"I imagined the defeat was that he was just describing a butterfly, a wizened horse turd, a this, a that. I thought he was ashamed of his aimlessness and that he was valiantly articulating his failure."
I starting thinking what this might look like for a 50+ woman. When would solitude look like loneliness? Would an unmarried woman feel this way? How about one who has remained in a bad marriage? Or a woman who is beleaguered by the constant demands of the job and family, and can't find a place or time for quiet solitude or reflection? Would any of them think they have wasted their life? I sure hope not, but instead hope it is seen as a way to recharge our batteries, a time for reflection… creativity!
While I encourage you to read the entire article for yourself, I will give you a hint:
You just may find you experience "an exhultant aha!"
And if you liked what you read, why not pick up Patricia Hampl's new book:
Now, I am off to find a place of relaxation and solitude and a good book!
Et toi?
I'd love to hear what you thought about the article! Just scroll down to leave a reply.
~ ~ ~
Au revoir,
Lisa